Singapore civil servant accused of 455 charges of fraud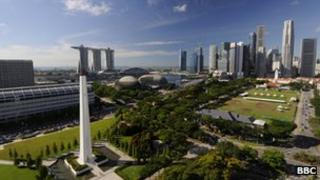 A civil servant in Singapore is accused of 455 fraud charges and cheating the government of more than SG$600,000 (US$460,000; £295,000).
Liew Chee Meng, 35, is accused of forging official documents to purchase gift vouchers for himself between 2007 and early this year.
He was a clerical officer for the country's Ministry of Home Affairs.
He appeared in court on Thursday to face the charges, said Singapore's Straits Times newspaper.
The ministry released a statement saying that investigations had led to the recovery of almost SG$475,000 worth of goods from the accused.
Such cases are not common in the country, an Asian financial hub with a reputation for honest practices.
Singapore was ranked fifth least corrupt nation in the world this year, in the annual survey by the Berlin-based Transparency International.
Civil servants in Singapore are also among the best paid in the world which, the government has said, helps to deter corruption.
Mr Liew's actions came to light in January after an internal audit following an earlier corruption case in the public sector, the biggest since 1995.
That case caught media and public attention as it involved two senior public servants with a taste for expensive sports cars.
Koh Seah Wee, a former deputy director of information technology at the Singapore Land Authority, was found guilty of defrauding the government of more than SG$12m.
He was sentenced to 22 years in jail last month. His subordinate, Lim Chai Meng, was sentenced to 15 years.