Overloaded ferry sinks off eastern Indonesia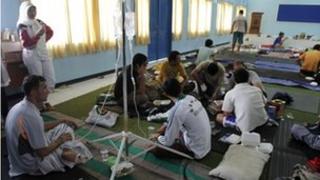 An overloaded ferry carrying more than 100 passengers has sunk in high seas off eastern Indonesia.
Four people were confirmed dead and dozens rescued after the boat capsized in stormy weather near the Maluku islands. There are conflicting reports about numbers of people still missing.
It is Indonesia's second boat disaster in a week. Dozens of asylum seekers died after their boat sank on Saturday.
Rescuers have pulled at least 40 bodies from the water. Many more are missing.
The ferry that sank on Wednesday was packed with people heading home for the Christmas holidays, Indonesian transport official Nus Sileti said.
The four dead include an 11-year-old boy and a baby, he told the Associated Press.
The boat that sank four days earlier was carrying asylum seekers believed to be mostly from Afghanistan, Turkey and Iran en route to Australia's Christmas Island.
Fewer than 50 people have been rescued so far, officials say. At least 250 people were believed to be on board, but some reports put the number nearer to 400.