Protests flare in southern Chinese town of Haimen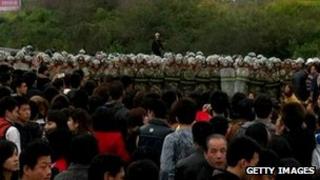 Thousands of people have protested in southern China against plans to build a new coal-fired power plant.
Protesters say two students died in the unrest in the town of Haimen in Guangdong province.
Police denied the claims, saying a number of officers had been injured. Locals blame an existing power station for a rise in cancer cases.
The protests follow disturbances further down the coast, in the town of Wukan, over land disputes.
According to one student, people gathered in front of the local government building in Haimen on Tuesday morning while some blocked the road.
The student, Lin, told the BBC that his friends had witnessed two students, aged 16 and 20, die during the environmental-related protests.
Lin said that people were planning to gather again the next day.
He said that students in the town had been forbidden to leave school during the day to prevent them from joining the protests or getting hurt.
Police in Haimen refused to comment to the BBC, but a policeman at the Public Security Bureau of Chaoyang district denied the two deaths.
Another Haimen resident told the BBC that she had seen polluted water coming out of the existing power station in the town. According to her, there were a number of fishermen among the protesters, as pollution has made it difficult for them to fish.
Locals say fishing has been badly hit by pollution from the power station.