Powers behind N Korea's new 'general'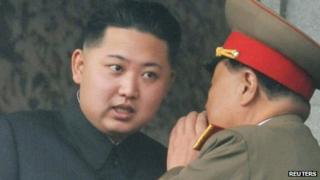 Kim Jong-il's third son, Kim Jong-un, is the clearly anointed and intended successor of the North Korean leadership.
He was unveiled as heir at a Workers' Party conference in September 2010, where he was made a four-star general and vice-chair of the Party's Central Military Commission.
He has made increasingly frequent appearances in North Korean media, often accompanying his father, since then.
His name is first in the list of members of the "national funeral committee" published by the main North Korean news agency, the KCNA - something observers say is a good guide to individual rankings in the Pyongyang power structure.
Hereditary rule has become such a central theme of North Korean power, and Kim Jong-un's position as successor has been so firmly stated and restated by state media, that no individual is likely to mount an overt challenge to the rule of the "Young General", at least in the immediate term, analysts say.
But Kim Jong-un - not yet 30 - is an untried and inexperienced leader who is inheriting an impoverished pariah state probably years before he expected to.
Some analysts warn that behind the scenes, a power struggle could erupt as senior figures in the Party, military, parliament and "first family" jostle for control.
Others suggest that the younger Kim will be the new figurehead of an established, experienced group which will govern collectively.
We identify some of the key characters in the North Korean leadership who may attempt to guide - or rival - the new leader's decision-making.
Power couple
The figures who appear best placed to help direct the young Kim are Kim Jong-il's sister, Kim Kyong-hui, and her husband Chang Song-taek, both believed to be 65.
Reports suggest Mrs Kim - the former light industry minister and Politburo member who was named a four-star general at last year's party conference - and her husband were appointed to help establish the young Mr Kim as heir and act as the new leader's mentors.
Mr Chang survived purges and "re-education" to emerge as one of Kim Jong-il's closest confidants - who is even thought to have adopted one of the Dear Leader's illegitimate sons, Kim Jang-hyun, now in his 30s.
He is in the Politburo and in 2009 he was named vice-chairman of the National Defence Commission, the leading military organ. He is rumoured to be a reformer who played a central role in large economic projects.
"Chang has played a considerable role during Kim Jong-il's illness of managing the succession problem and even the North's relations with the United States and China," Yang Moo-jin, of Seoul's University of North Korean Studies, told Reuters news agency.
But there could be risks in placing Mr Chang so close to the new leadership, warns the respected South-based Korea Economic Institute.
"It is likely that he has his own power base within the government," says the KEI in a guide to 10 important figures in the transition of power.
"Moreover, some reports suggest the Chinese would have preferred him to succeed Kim Jong-il rather than Kim Jong-un.
"These factors, including his involvement in economic projects and directing internal security matters, leave a possibility for Chang Song-taek to attempt to seize power himself."
Counterbalance?
Kim Jong-il may have attempted to provide a counterweight to Chang Song-taek's power by positioning Ri Yong-ho, said to be 68, close to his son, Paik Hak-soon, an expert on the North's powerful structure at the Sejong Institute, told Reuters.
Ri Yong-ho is the chief of the military joint chiefs of staff and his importance is illustrated by the fact he is at number four on the national funeral committee list.
Ri Yong-ho's positions in the military and elsewhere mean, write analysts Brent Choi and Mi Jeong Hibbitts, that he is "at the axis of the three power bases: the military, the party's Central Military Commission, and the Standing Committee of the Political Bureau.
"Therefore, Ri will likely play a pivotal role in paving the path forward for Kim Jong-un over the next two to three years as he transitions to become Kim Jong-il's successor."
The KEI is more cautious, warning that it "will remain to be seen if they [Chang Song-taek and Ri Yong-ho] and others are really trying to help him, rule by controlling Kim Jong-un from behind the scenes, or set him up for failure," it warns.
According to Reudiger Frank, professor of East Asian Economy and Society at the University of Vienna, Kim Yong-nam - head of parliament - should also "not be underestimated.
"I know people who have met him," Prof Frank told the BBC, "and they say he's an enormously smart man - he had to be to stay alive."
The KEI agrees, saying Kim Yong-nam's "leadership in the Supreme People's Assembly will also be important in maintaining support among the North Korean elites for Kim Jong-un".
Prof Frank also names Choe Yong-rim - the head of the cabinet - as a leading figure of influence.
Older brother
But there is unlikely to be any open competition among these figures, Prof Frank says, as they all went to school together and are close.
"We have to remember that the elite are the beneficiaries of the current system, and they want to keep it intact. So even if they don't like the current leadership... it's still a better option than a complete collapse of the system," he says.
At present none of Kim Jong-il's other sons seem likely to mount any kind of challenge to Kim Jong-un's new role, and his older half-brother - once the regime's heir apparent - Kim Jong-nam has explicitly stated he is not interested in a leadership role.
Despite this, several analysts caution against ruling out a challenge from Kim Jong-nam.
Chatham House's Jiyoung Song points out that he previously led the country's IT industry, providing "one of the main sources of cash for his father and the regime", and has held senior security roles.
"With his father gone, has his time come?" she asks.
Prof Frank agrees that "there is always a danger that one of these other sons will become instrumentalised by others - a princeling used as a figurehead".
But, he adds, it is a possibility to which Kim Jong-un's backers are alert.