Kim Jong-il death triggers swift regional reaction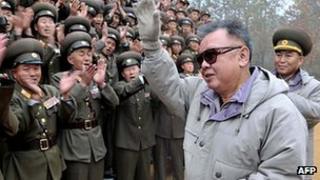 Uncertainty brought about by the death of North Korean leader Kim Jong-il has brought swift reaction from regional neighbours and further afield.
Reports from South Korea say the military has been placed on alert, although there is no sign of military activity north of the border.
In Japan, Prime Minister Yoshihiko Noda has set up a crisis management team.
Meanwhile in Washington, a White House spokesman said the US was in close touch with South Korea and Japan.
Stock markets in Asia have fallen amid uncertainty about the future of North Korea, which has a controversial nuclear programme.
In the South Korean capital Seoul, President Lee Myung-bak ordered all government officials on emergency response status, restricting them from taking leave or travelling.
Mr Lee summoned a National Security Council meeting at the presidential Blue House, officials said.
"Monitoring and security around border areas has been strengthened," a defence ministry spokesman told AFP.
"We are paying close attention to any movements by the North's military.
"All commanders are on alert and the South and US are beefing up the sharing of military intelligence. There have been no particular moves by the North's military yet."
Emergency meeting
In Japan, Mr Noda cancelled a speech minutes after the broadcast from Pyongyang and rushed back to his office to chair an emergency meeting of senior ministers.
"I am aware that the report has been made. I have instructed that the facts be checked," he told reporters.
He said he had told officials to increase intelligence-gathering on North Korea, to work closely with the US, China and South Korea, and to prepare for any further unexpected developments.
White House spokesman Jay Carney, in a carefully-worded statement, said the US was "closely monitoring reports" from North Korea.
"The president has been notified, and we are in close touch with our allies in South Korea and Japan. We remain committed to stability on the Korean peninsula, and to the freedom and security of our allies," he said.
Analysts said Kim's death poses an immediate and serious foreign policy crisis for Washington and its allies, given nuclear-armed North Korea's history of belligerence.
China, North Korea's main backer, has not yet given its official reaction to Kim Jong-il's death.
The BBC's Michael Bristow in Beijing says that on a trip to China last year, Kim Jong-il was still greeted by all of the country's top leaders.
China will want to know who is now taking over in Pyongyang, he says, and will want that transition to be as smooth as possible.