Indonesia attack: Catholic shrine vandalised in Java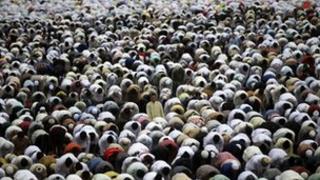 A popular Catholic shrine in Indonesia has been vandalised, one of many incidents of attacks against minorities.
Church officials say that a statue of the Virgin Mary was beheaded in Central Java on Wednesday.
Some religious objects, including a cross, were also taken from the site.
Theo Bela, a spokesman for a Christian forum in Jakarta, said that the person behind the act posed as a pilgrim to enter the cave where the shrine is.
The vandalism was discovered the next day.
Benny Susetyo, executive secretary of the Commission of the Indonesian Bishops Conference, hopes that the police would be able to resolve the matter immediately.
"We are scared because this happened when Christmas is near," he said.
"Cases of desecration of sacred objects had happened before [in Indonesian churches], but not often," he added.
Indonesia is the world's most populous Muslim nation but it is also secular. The right to practice five other faiths besides Islam, including Christianity, is guaranteed by the country's constitution.
Over the years, there have been a series of incidents of violence against Christians and other minority groups in Indonesia. Earlier this year, a bomb went off in a church in Central Java, killing the suicide bomber who detonated the blast and injuring several others.