Rescuers race to Russian vessel 'Sparta' in Antarctic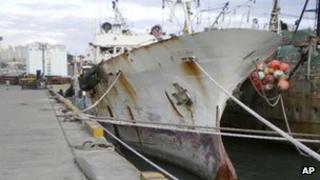 Officials in New Zealand say it could take up to five days for rescuers to reach a Russian fishing vessel taking on water off Antarctica.
The Sparta, which has a crew of 32, sent out a distress call on Thursday. It has reported a hole in its hull beneath the water line.
The crew are throwing cargo overboard to lighten the ship, and some of the crew are reported to be in lifeboats.
The closest ship with ice-breaking capability is five days away.
Maritime New Zealand said in a statement that the Sparta was next to the Antarctic ice shelf, about 2,000 nautical miles (3,700km) south-east of New Zealand.
One vessel was only 19 nautical miles away, but could not go to the Sparta's aid because of thick ice.
A New Zealand vessel, the San Aspiring, can move through ice but is four to five days away. It is now making its way towards the stricken ship, MNZ said.
A Hercules aircraft has flown over the site but officials said the plane would not be able to pick up the crew.
The hole in the hull is said to be only just beneath the water line, meaning that if the ship's load is lightened it could rise above sea level.
The crew have asked for more pumps to be supplied to help them remove more water, MNZ said.