US satellite pictures China aircraft carrier Varyag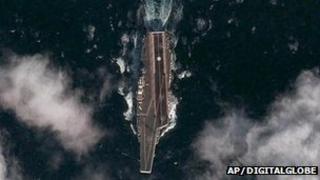 A commercial US satellite company says it has taken a picture of China's first aircraft carrier during its sea trials in the Yellow Sea.
It is believed to be the first time that the refitted Soviet vessel has been photographed sailing.
The warship began its sea trials in August, raising fresh concerns over Beijing's military build-up.
China is currently involved in several maritime territorial disputes, particularly in the South China Sea.
Stephen Wood, director of DigitalGlobe's analysis centre, said the vessel was photographed on 8 December off the Chinese coast by one of the company's orbiting satellites.
Mr Wood added that he was confident it was the Chinese carrier because of the location and date of the photo.
China, which says the carrier is intended for research and training, has so far not publicly commented on the claim.
Maritime disputes
The vessel began the trials in August at Dalian, a port in the north-eastern province of Liaoning, Chinese state media reported at the time.
Although China is believed to be years away from being able to deploy the carrier as a powerful warship, the move has raised regional concerns, analysts say.
In the past year alone, China has had maritime disputes with Japan, Vietnam and the Philippines.
The carrier is a former Soviet vessel that was never completed. When the Soviet Union collapsed in 1991, its rusting hull sat in dockyards in Ukraine.
As other Soviet warships were cut up for scrap, a Chinese company with links to China's army bought the Varyag, claiming originally that it would be turned into a floating casino.
It took several years to tow it to the Chinese port of Dalian.
In June, the military confirmed that China's first aircraft carrier was under construction.