Kyrgyzstan profile - Leaders
President: Almazbek Atambayev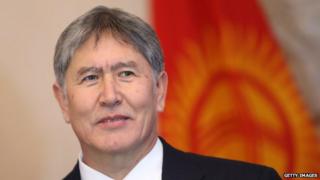 Almazbek Atambayev, a businessman and former prime minister, won more than 60% of votes in the October 2011 presidential election, trouncing his nationalist rivals.
His inauguration in December marked the first peaceful transfer of presidential power in Kyrgyzstan's post-Communist history.
Under pro-Russian Mr Atambayev, Kyrgyzstan has announced plans to join the Russian-dominated Eurasian Customs Union.
He also refused to extend the lease on the US air base at Manas - a logistics hub for the Afghan conflict - in 2012, soon after accepting a loan from Russia; the base closed in 2014.
Born in 1956, Mr Atambayev made his fortune in the 1990s in publishing business. His support base is in the Russian-leaning north of Kyrgyzstan.
Mr Atambayev's predecessor, Roza Otunbayeva, led an interim government formed after ex-president Kurmanbek Bakiyev was ousted in a popular uprising in 2010.
She presided over a tumultuous period, which included deadly clashes between ethnic Kyrgyz and minority ethnic Uzbek in the south. But she pursued constitutional reforms which made parliament the main decision-making body, and earned international praise for agreeing to relinquish power.
Prime minister: Joomart Otorbayev
Reformer Joomart Otorbayev became the fifth prime minister since the 2010 revolution after the coalition of his predecessor, Zhantoro Satybaldiyev, collapsed as a result of corruption allegations in March 2014.
Keen to avoid yet another political crisis in Kyrgyzstan, however, the same three parties of Mr Satybaldiyev's coalition agreed on Mr Otorbayev - first deputy prime minister of the previous government - as new prime minister.
After being elected with an overwhelming 103-7 majority in parliament, Mr Otorbayev promised to strive for a developed Kyrgyzstan.
His main challenges are seen as reducing poverty, speeding up economic growth and completing difficult talks with Canadian mining company Centerra Gold over the terms of the joint venture running Kumtor, Kyrgyzstan's largest gold mine.
Born in 1955, Mr Otorbyaev has a doctorate in physics and a background in business. He twice served as deputy prime minister in charge of economics and investment, in 2002-5 and 2011-12.
Since constitutional reforms introduced in 2010 in response to the violent removal of two of Kyrgyzstan's presidents in half a decade, the prime minister is the main executive government post.