Kyrgyzstan profile - Media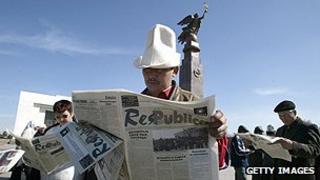 Television is the most popular medium. There are state-run networks and more than a dozen private stations. Russian networks have a large audience.
Most radio stations are privately-owned; a handful broadcast nationwide.
The Kyrgyz media have greater editorial freedom than their regional counterparts. But journalists are subject to pressure from private media owners or the authorities, says US-based Freedom House.
Self-censorship is exercised when covering sensitive topics, including inter-ethnic relations, says Reporters Without Borders.
There were 2.1 million internet users by 2017, comprising around 34% of the population.
There is no widespread official censorship, but the authorities have used anti-extremism regulations to justify blocking a handful of websites, says Freedom House. Some internet users have been prosecuted for criticising the government.
The press
Television
Radio
News agencies/internet