Indonesia Grasberg mine workers end strike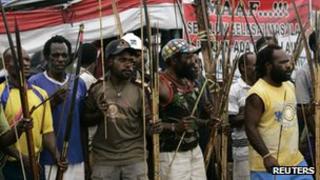 Workers at the Freeport-McMoran copper and gold mine in Indonesia have ended their strike and will head back to work on Saturday, unions say.
The decision to end the three-month-long strike came after Freeport bosses agreed to an increase in wages.
The strike, at Freeport's Grasberg mine, is one of the longest running industrial disputes in Indonesia.
It has crippled production at the mine in Papua, one of the poorest provinces in the archipelago.
Freeport-McMoran has always been seen as one of the most powerful foreign companies in the country, with strong connections to the Indonesian government - but even the government was unable to solve this industrial dispute, says the BBC's Karishma Vaswani in Jakarta.
It took a 37% increase in wages, improved housing allowances, educational assistance and a retirement savings plan for workers to agree to a deal.
This is being seen as a partial victory for Freeport's workers - even though their initial demands called for much higher wages, our correspondent says.
The US firm did manage to put in some conditions of its own, however, agreeing with union leaders that future wage negotiations would be based on living costs and the competitiveness of wages within Indonesia.
Our correspondent says that was presumably an attempt to prevent such a strike happening again.
Analysts say the success of the strike is sure to encourage similar campaigns in Indonesia, which has witnessed strong economic growth recently.
But while many Indonesian companies have seen their profits increase, workers often say they are yet to see any of that wealth reach them.