Papua New Guinea hit by 7.1 magnitude earthquake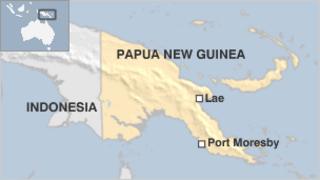 A powerful 7.1 magnitude earthquake has struck the Pacific state of Papua New Guinea, but no tsunami warnings have been issued.
The quake struck 89km (55 miles) from the second city of Lae, at a depth of 121km, said the US Geological Survey.
"It was very, very big," a hotel receptionist in Lae reportedly said.
There have been no reports of serious damage. Seismologists say the tremor is unlikely to trigger a tsunami as it hit deep underground and inland.
The quake, originally rated as 7.3-magnitude, wrecked displays in Lae's Foodmart shop and caused some damage to the ceiling, but "touch wood, nothing serious", manager Albert Martinez told Reuters news agency.
Dolly Kinibo, a receptionist at the Lae International Hotel, told the agency it was "very big".
"It lasted for two to three minutes. The whole building moved. The Christmas tree moved, we all moved, people are very shaken.
"There are no reports of injuries or damage, but our managers are checking," she said.
Residents of the town of Wau, about 20km from the epicentre, told AFP news agency that buildings and the ground had shaken, but there was no major destruction evident.
Clive Collins, a seismologist for Geoscience Australia, told AFP the quake was unlikely to trigger a tsunami.
"That's the assessment on the basis that it's about 20km inshore and also it's about 120km deep and that's too deep really to cause any tsunami problems."
But he said landslides could be a problem in the mountainous area.
Papua New Guinea sits atop the seismically active "Pacific Ring of Fire".