Rescued Karachi pupil describes reign of terror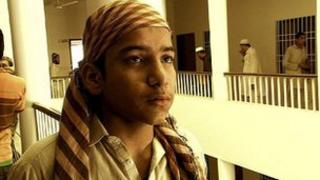 Pakistani authorities have announced an inquiry after police freed about 50 students who had been detained, some in chains, at a religious school in Karachi. The BBC Urdu Service's Hasan Kazmi met Babar Khan, one of those rescued, at a police station several hours after the raid.
Babar Khan, 16, spent nine months in the "jail school".
Originally from Karachi, he was taken there by his parents because he would not go to school.
"We were not able to see the sun or the moon for several days at a stretch," he said.
"We were kept in an underground room while small kids were kept on the first storey with chains.
"The last time I had tea was several months back. They would serve us dinner after midnight. But that too would be in small portions.
"Mostly the food was lentils with lots of water and no salt or spices. The students used to fight over bread. This too when my parents were paying them 8,000 rupees [about $90; £58] a month in fees.
"I was beaten up the first day after my parents left me here.
"We were allowed to talk to our families once a month on the telephone or [have] one visit a month from family members.
"They told us not to talk about our status with them.
"Before any visit, they would let us have a bath and wear clean clothes.
"A school worker was made to sit with us to listen to our conversations.
"They warned us we could meet bitter treatment if we told our parents about it.
"But they never gave us any training in weapons or anything like that."