Buddhist activist gets five-year jail term in Vietnam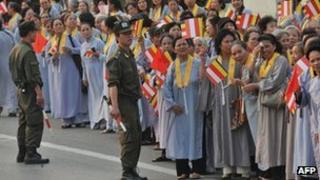 A court in Vietnam has given at least one Buddhist activist a prison sentence for distributing anti-government material, state media says.
Nguyen Van Lia, 71, a member of the minority Hoa Hao Buddhist sect, got a five year term for distributing anti-government leaflets and CDs.
There are unconfirmed reports that another man was also given a jail term.
With nearly four million followers in Vietnam, the sect is state sanctioned but some members oppose the government.
State media said that Mr Lia was guilty of "abusing democratic freedom to undermine the state interest".
He denied the charges, according to his daughter, who followed the half-day trial via loudspeakers outside the courtroom.
Officials at the People's Court of Cho Moi District in the province of An Giang declined to comment.
The Associated Press also reported that another Buddhist activist, Tran Hoai An, received a three-year sentence on the same charges.
The New-York based Human Rights Watch condemned the verdict as religious persecution.
"One wonders what exactly the government of Vietnam is so afraid of that an elderly man like Nguyen Van Lia, who has dedicated his life to religion, should frighten them so much that they feel they need to lock him up away in prison," said Phil Robertson, deputy director of HRW's Asia Division.