South Korean anger at China fishermen stabbing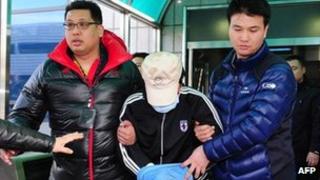 South Korea has promised tough measures to halt illegal Chinese fishing, a day after a coast guard was stabbed to death in a fight at sea.
President Lee Myung-bak says the coast guard will get extra funding to boost its operations in the Yellow Sea.
A Chinese captain is accused of killing an officer after being stopped for illegal fishing on Monday.
Korean media and politicians have reacted angrily, criticising China for not offering condolences.
The presidential office says a possible visit by Mr Lee to China next month may be reconsidered.
The JoongAng Ilbo newspaper said it risked triggering the worst-ever diplomatic row between the two nations.
The Korean authorities say they have bloodstained clothes, weapons and enough further evidence to press homicide charges.
"The captain has denied stabbing the officers. But we have firm evidence including his bloodstained clothes, so we won't have much problem charging him," a coast guard spokesman told AFP news agency.
South Korea's foreign ministry summoned the Chinese ambassador in Seoul and lodged a protest over the clash.
A Chinese foreign ministry spokesman said earlier that Beijing was trying to clarify details and was willing to work closely with the South Koreans.
Chinese crews are regularly caught fishing in Korean waters. They are usually released after paying a fine.
About 430 Chinese ships have been seized for illegal fishing in the Yellow Sea so far this year, up from 370 last year, according to the coast guard.
But previous attempts to intercept Chinese fishing boats have also ended in violence.
In October the coast guard said it had used tear gas and rubber bullets to subdue Chinese fishermen wielding clubs and shovels.
The sea inside South Korea's exclusive economic zone, between China and the West coast of the Korean peninsula, is rich in crabs and anchovies.