Australian faces lashes for blasphemy in Saudi Arabia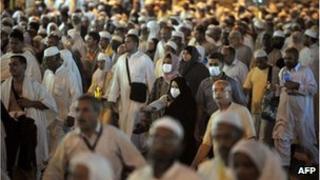 An Australian man has been sentenced to 500 lashes and a year in prison after being convicted of blasphemy by judges in Saudi Arabia.
Officials in Canberra said they had been in touch with the Saudi authorities to request leniency.
Australian reports named the man as 45-year-old Mansor Almaribe from Shepparton in Victoria.
Reports said he was chronically ill and family members said they were extremely worried about his health.
"Five hundred lashes on his back, and he has back problems. I wouldn't think he'd survive 50," his son Mohammed told Australia's ABC News.
Almaribe had travelled to the country for a pilgrimage to Mecca.
He was arrested nearly a month ago, but details of the charges against him have not been made public.
Australia's Department of Foreign Affairs said the judge initially handed down a sentence of two years in jail and 500 lashes, but later reduced the jail time.