Nuon Chea: Khmer Rouge 'were not bad people'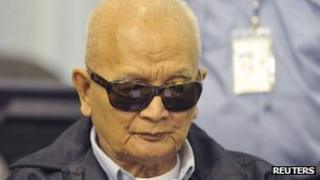 Pol Pot's deputy has told a court the Khmer Rouge were not "bad people", blaming deaths of Cambodians under the Maoist regime on neighbouring Vietnam.
Nuon Chea made the comments at his genocide trial at a UN-backed court in Phnom Penh.
It is the first time he has faced questioning over his role in the regime's four-year rule, which left as many as two million Cambodians dead.
His trial began last month - only the second at the court.
Nuon Chea is being tried alongside Khieu Samphan, the Khmer Rouge's former head of state, and Ieng Sary, its former foreign minister.
All three deny the charges.
"I don't want the next generations to misunderstand the history," Nuon Chea told the court.
"I don't want them to misunderstand that the Khmer Rouge are bad people, are criminals. Nothing is true about that."
The 85-year-old said he had devoted himself to serving his country, and said killings under the regime were carried out by rogue elements and the Vietnamese.
"These war crimes and crimes against humanity were not committed by the Cambodian people," he said. "It was the Vietnamese who killed Cambodians."
He also told the court he originally became involved with the resistance movement that went on to become the Khmer Rouge because he was disgusted by the way the French colonial authorities and rich landowners treated Cambodians like slaves.
The case against the three men has been split into a number of smaller trials, because of fears that the elderly defendants could die before proceedings are completed.
The first mini-case focuses on the forced movement of urban populations into the countryside, where many city-dwellers died from starvation and overwork, and associated crimes against humanity.
Khieu Samphan is also due to address the court but Ieng Sary has refused to testify.
His wife, former Khmer Rouge social affairs minister Ieng Thirith, had been due to stand trial with the trio but has been ruled unfit because of mental health issues.
The UN-backed court's first case was the trial of Duch, the former Khmer Rouge prison chief who oversaw the torture and execution of thousands of inmates at Tuol Sleng prison.
He was convicted of crimes against humanity last year.