New Zealand ruling party agrees coalition deal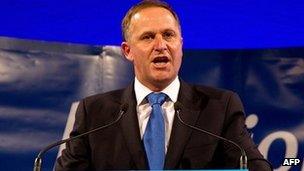 New Zealand's National Party has sealed a coalition deal with two small parties, nine days after almost securing an outright victory in the general election.
The ruling party will govern with the ACT party and the United Future party, which both have one seat in parliament.
The National Party, led by PM John Key, secured 60 of 121 parliamentary seats and this deal gives them a majority.
It will be Mr Key's second term in office.
He is also in coalition talks with three Maori Party lawmakers.
Opposition leader Phil Goff announced his resignation last week after his Labour Party secured just 27% of the vote, losing nine seats in parliament.
The coalition agreement means that Mr Key has the votes needed to go ahead with his election pledge to sell off more state assets in order to pay off debt and return to budget surpluses.
He wants to sell minority interests in three power companies, a mine, and in the national carrier, Air New Zealand.