Burma leader Thein Sein signs law allowing protests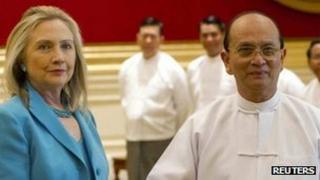 Burmese President Thein Sein has signed a law allowing peaceful demonstrations for the first time, state media report.
The new law requires people to seek approval at least five days in advance. All protests were previously banned.
It is the latest reform undertaken by Burma's nominally civilian government since the military junta handed over power earlier this year.
Meanwhile the government has reached a ceasefire with a leading armed ethnic group, the Shan State Army South.
The truce was signed on Friday in the eastern state of Shan, the civic group Myanmar Egress said.
Peace talks with Burma's many armed ethnic groups have been a key demand by Western countries to lift sanctions.
Both the ceasfire and the new law on protests came as US Secretary of State Hillary Clinton ended a three-day visit to Burma.
On Friday Mrs Clinton met pro-democracy leader Aung San Suu Kyi, who said Burma could get on "the road to democracy".
Aung San Suu Kyi also welcomed recent reforms that have enabled her party to stand in elections, but said more needed to be done.
She called for political prisoners to be freed.
Mrs Clinton was the most senior US official to visit Burma in 50 years.
The Burmese government continues to hold hundreds of political prisoners and the country is still plagued by ethnic conflicts.
The US maintains tight sanctions on senior leaders in Burma, which was ruled by a military junta from 1962 until 2010.
The army handed power to a civilian government last year, but the military's primacy is entrenched in the country's constitution.