Jailed Afghan rape victim freed with no pre-conditions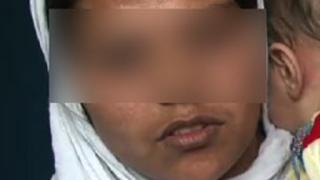 An Afghan rape victim who was jailed for adultery does not have to marry her attacker to be freed, her lawyer has told the BBC.
Lawyer Kimberly Motley says this was clarified personally to her by President Hamid Karzai's office.
Mr Karzai pardoned the woman, named as Gulnaz, earlier this week, but some reports had said this was on condition that she married her attacker.
Gulnaz gave birth in jail to a daughter who has been kept with her.
On Friday, Ms Kimberly said that 21-year-old Gulnaz would be released with no pre-conditions and would then be free to marry whomever she chooses.
"She doesn't have plans for the future, she just wants to get out [of prison]," the lawyer said.
She added that Gulnaz had a "safe place" to go after her expected release.
The case has drawn international attention to the plight of many Afghan women 10 years after the overthrow of the Taliban.
Human rights groups say hundreds of women in Afghan jails are victims of rape or domestic violence.
Gulnaz earlier said that after she was raped in 2009 she was charged with adultery.
"At first my sentence was two years," she said. "When I appealed it became 12 years. I didn't do anything. Why should I be sentenced for so long?"
The most recent appeal saw her sentence reduced to three years before the presidential pardoning.
'Marriage with conditions'
Some 5,000 people signed a petition for Gulnaz's release.
The attack on Gulnaz was brought to light by her pregnancy. Her attacker - her cousin's husband - was jailed for 12 years, later reduced on appeal to seven.
Her story was included in a European Union documentary on Afghan women jailed for so-called "moral crimes" but the EU blocked its release because of "very real concerns for the safety of the women portrayed".
The EU's Ambassador and Special Representative to Afghanistan, Vygaudas Usackas, said on Thursday he was "delighted" to hear Gulnaz was to be freed.
"Her case has served to highlight the plight of Afghan women, who 10 years after the overthrow of the Taliban regime often continue to suffer in unimaginable conditions, deprived of even the most basic human rights," he said.
"While we applaud the release of Gulnaz, on the orders of President Karzai, it is the hope of the European Union that the same mercy that has been extended to Gulnaz is applied to all women in similar circumstances."
Human rights workers criticised the EU for withdrawing the documentary, saying the injustice in the Afghan judicial system should be exposed.
Half of Afghanistan's women prisoners are inmates for "zina" or moral crimes.
The BBC's Bilal Sarwary, in Kabul, says recent cases of violence against women are embarrassing for the Afghan government.
Many Afghan women's rights activists say there must be an end to the culture of impunity and police must punish all those behind violence against women, he adds.