Pakistan 'memogate' envoy Husain Haqqani gets travel ban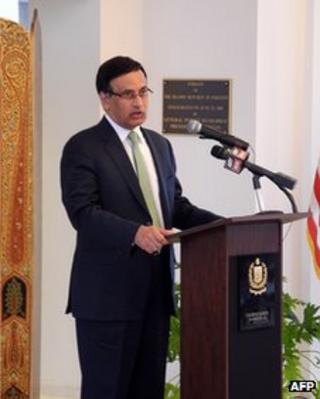 A Pakistani court has banned the former envoy to the US Husain Haqqani from travelling abroad while his role in a row over a leaked memo is investigated.
Mr Haqqani and President Zardari are accused of drafting the memo, in which civilian officials allegedly sought US help against a possible military coup.
Both men deny the allegations. Mr Haqqani however resigned last month.
The court acted after opposition leader Nawaz Sharif argued that compiling the memo was a "treasonous" act.
In a petition filed to the court, Mr Sharif said that those responsible for initiating it should be punished.
Mr Haqqani has been placed on the Exit Control List (ECL) until the investigation is completed, which some reports estimate could take about three weeks.
Coup fears
The "memogate" row, as it has come to be known, originates from a Financial Times article by Pakistani-American businessman Mansoor Ijaz, published on 10 October.
In it, Mr Ijaz said that President Zardari had offered to replace his country's military leadership and cut all ties with militant groups following the killing of Osama Bin Laden last May.
Former US Joint Chiefs Chairman Michael Mullen confirmed receiving the secret communication, but insisted that he did not pay any attention to it and took no follow-up action.
Correspondents say that it is far from clear who wrote the memo and who sent it. It is also not clear - from accounts of the memo - how President Zardari hoped the Americans could have delivered on either of his alleged offers.
Mr Haqqani said that he had not been officially informed about the court order, but that he had no plans to travel abroad in any case.
"I resigned to pave the way for a transparent inquiry," he told The Associated Press. "I would not have come back to the country if I intended to leave."
Officials say that he has been ordered by the court to stay in the country until the three-week probe is complete.
The memo, which has been placed on the court's record, pointed out that the Pakistani army was upset over the 2 May killing of al-Qaeda leader Osama Bin Laden in the town of Abbottabad.
The BBC M Ilyas Khan in Islamabad says that it expressed fears that the army may stage a coup if the civilian government tried to set up an independent inquiry to determine who was protecting Bin Laden's death.
It said that an "American fist" was needed on the army chief's desk.