New Kyrgyz President Atambayev pledges 'new page'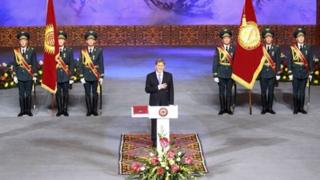 Kyrgyzstan has sworn in a new president in the former Soviet nation's first peaceful transfer of power.
Almazbek Atambayev promised to open a "new page" in the country's history and called for ethnic unity.
Mr Atambayev, 55, was prime minister until comfortably winning elections in October.
The country's first two presidents were unseated in bloody uprisings. Kyrgyzstan won independence after the Soviet Union collapsed two decades ago.
Election observers found major shortcomings in the 30 October vote and Mr Atambayev's opponents have refused to recognise the result.
But correspondents say the very fact a largely peaceful and credible election was held in a region notorious for autocrats was significant progress.
'Stability'
Mr Atambayev, a wealthy businessman from the north who made his money in the early 1990s, has promised to bring prosperity to the impoverished Central Asian nation.
"Today we're opening a new page in the history of Kyrgyzstan. The people expect a fair rule from us. Otherwise they will not forgive," he said after being inaugurated.
"The most important thing today is stability because without stability Kyrgyzstan has no future."
Mr Atambayev also referred to Russia - which sent a relatively low-level delegation - as "our main strategic partner".
"We intend to join the Customs Union [of Russia, Kazakhstan and Belarus]," he said. "We have a common history and a common future with Russia and our neighbouring countries."
Observers believe Mr Atambayev wants to improve ties with Russia, which in recent years have been prickly.
Mr Atambayev won more than 60% of votes in the October presidential poll.
The election came after the ousting of former President Kurmanbek Bakiyev in a violent uprising in April 2010 which left more than 90 people dead. More than 400 others were killed in ethnic violence which followed in the south between Kyrgyz and Uzbek communities.
Outgoing President Roza Otunbayeva took power from Mr Bakiyev and earned praise for agreeing to hand over power. She did not stand in the October vote.
"For the first time in our independence we are creating the precedent of a peaceful and constitutional handover of power," she told parliament on Wednesday, in an emotional farewell speech.
Air bases
Kyrgyzstan's Central Asian neighbours, such as Uzbekistan, Kazakhstan and Tajikistan, are all still ruled by strong-arm leaders, who have been unchallenged since Soviet times.
In contrast, Kyrgyzstan has seen two leaders removed by violent protest in the last six years.
Public protests, from picketing parliament to blocking main roads, are a daily occurrence in a country which has gained a reputation for both instability and relative openness.
The US and Russia compete for influence in Kyrgyzstan, which is located on China's Western border.
Kyrgyzstan hosts a US air base used to supply Nato troops in Afghanistan. Russia also has an air base outside the Kyrgyz capital, Bishkek.