Pakistan to boycott Afghan Bonn talks after Nato raid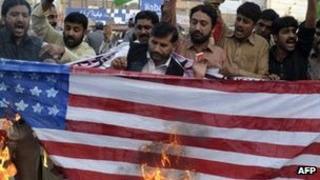 Pakistan is to boycott a meeting on Afghanistan's future in protest at a Nato air strike which killed 24 of its soldiers at the weekend, officials say.
The decision not to attend came as Nato troops were attacked by insurgents in eastern Afghanistan, some firing from across the Pakistani border.
A BBC reporter with US troops says Nato fired shells into Pakistani territory.
Pakistan says Saturday's air strike violated its sovereignty. Nato has apologised, calling the deaths tragic.
Pakistan has cut crucial Nato supply lines through its territory to Afghanistan. Nato is investigating what happened.
Tuesday's boycott decision came amid mounting public anger in Pakistan and growing demands from opposition parties to sever ties with the US.
The BBC's international news channel has been taken off air amid uproar over the Nato air raid. The move came after the BBC aired a documentary that questioned Pakistan's commitment to tackling militancy - and could be part of a wider crackdown on foreign media coverage in the country.
Pakistan's Information Minister Firdous Ashiq Awan told the BBC the Nato air strikes were "a violation of all terms and conditions we have with Nato".
"It's a clear-cut attack on Pakistan's sovereignty and integrity," she added.
Sources close to Afghan President Hamid Karzai told the BBC they understood there would be no Pakistani participation in Bonn at all.
Following the boycott announcement, Mr Karzai rang Pakistani Prime Minister Yousuf Raza Gilani to urge him to send his foreign minister.
The Bonn meeting is aimed at bringing together Western and regional leaders to map out a strategy for Afghanistan after the withdrawal of foreign combat forces in 2014.
Pakistan is a key regional player, crucial to any hopes of a negotiated Afghan settlement.
Meanwhile, violence continued along the two countries' border.
The BBC's Quentin Sommerville was with US troops at the Margah outpost in Paktika province - 5km (three miles) from the border - when it was attacked by insurgents firing mortars and rockets from at least three locations, including from inside Pakistan.
US soldiers fired back nearly 50 mortars in response. A nearby base also opened up with heavy artillery, with at least two shells landing inside Pakistan territory, our correspondent says.
F-16 fighter jets were called in, dropping bombs on multiple locations, all within Afghan territory.
None of the American or Afghan soldiers were hurt - it is not known if the insurgents suffered casualties.
Under fire
Saturday's air strike has added to the strain on relations between Nato and Pakistan, a crucial ally in the fight against the Taliban.
In recent months, the US military has accused Pakistan's spy agency of supporting militants in Afghanistan. For its part, Pakistan's military was incensed by the US raid which killed Osama Bin Laden on Pakistani soil in May.
Afghan officials have claimed that Nato forces were retaliating for gunfire from the Pakistani side of the volatile border on Saturday, a charge denied by Pakistan's military.
The night-time attack took place at the Salala checkpoint in Mohmand agency, about 1.5 miles (2.5 km) from the poorly delineated border with Afghanistan, early on Saturday morning.
The Pakistani army said helicopters and fighter aircraft hit two border posts, killing 24 people and leaving 13 injured.
Unnamed Afghan officials quoted in The Wall Street Journal said Saturday's air strike was called in to shield Nato and Afghan forces who had come under fire.
One official quoted in the paper said that Kabul believed the shooting came from an army base.
"This is not true. They are making up excuses. What are their losses, casualties?" Pakistani army spokesman Maj-Gen Athar Abbas said in response to the allegations.
Military sources earlier told the BBC that a US-Afghan special forces mission had been in the area, where a Taliban training camp was believed to be operating.
They said the mission came under fire from a position within Pakistan, and they received permission from the headquarters of Nato's Isaf mission to fire back.
Pakistani officials have consistently maintained that there had been no militant activity in the area. They also said Nato had the grid references of the posts and therefore should not have fired.
Pakistani troops have been fighting the Taliban in the border region for most of the past decade. They still face accusations that they provide sanctuary to some militants launching attacks over the border in Afghanistan.
The US and Pakistan desperately need each other in order to shape the future of a stable and neutral Afghanistan before Western combat troops withdraw next year, correspondents say.
While Pakistani officials facing mounting domestic anger over ties with the US, they have little room for manoeuvre - the country's military is heavily dependent on US aid.
The BBC's Orla Guerin in Islamabad says there is little chance of ties being cut - but Pakistan is determined to send a message that it will not be satisfied merely with condolences from Nato or promises of an inquiry.