Indian consortium wins $10bn Afghanistan mines deal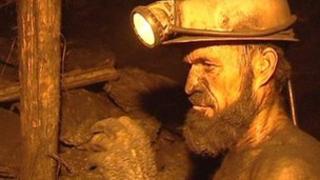 A consortium of Indian companies has won the right to develop some of Afghanistan's large iron ore deposits, Afghan mining ministry officials say.
Seven Indian companies, led by the state-owned Steel Authority of India, won a $10.3bn (£6.6bn) deal to mine three sites in central Afghanistan.
A fourth site was awarded to Canada's Kilo Goldmines. All the contracts are due to be signed early next year.
Last month, Afghanistan signed a strategic partnership deal with India.
In a development that correspondents say caused some concern to India's strategic rival Pakistan, the two sides said the aim was to boost trade, security and cultural links.
Exploitation of the estimated two billion tonnes of iron ore deposits in Hajigak mine - located in Bamiyan - is expected to begin by 2015.
Officials say that the project has the potential to be Afghanistan's single biggest foreign investment project.
The Hajigak deposit contains an estimated 1.8 billion tonnes of iron ore, with an iron concentration of 64%, the mines ministry said in a statement. The figures are based on a survey carried out in the 1960s.
The ministry said last year that Afghanistan could be self-sufficient within a decade if its mineral resources - which some estimates have valued as high as $3tn - are properly exploited.
But correspondents say that questions are certain to be asked as to whether investors will want to advance the large sums of cash required to start building mine and rail infrastructure in the country, which at the moment is almost non-existent.
Their unease is almost certain to be enhanced given the renewed uncertainty in Afghanistan ahead of the planned withdrawal of most Nato troops from the country by late 2014.
The mines ministry says that Afghanistan has vast reserves of oil, gas, copper, gold and lithium.