Pakistan denies firing provoked Nato border attack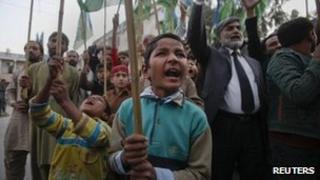 Pakistan has denied reports that it opened fire first, provoking the Nato air strike which killed 24 troops at a checkpoint on the Afghan border.
It follows claims by Afghan officials that Nato forces were retaliating for gunfire from the Pakistani side of the volatile border on Saturday.
On Sunday Pakistan's army chief led mourners as those killed in the strike were buried at military headquarters.
Nato has apologised, calling it a "tragic unintended incident".
The White House has also described the deaths as a tragedy.
"We mourn the brave Pakistani service members who lost their lives," said a spokesman for President Barack Obama, Jay Carney.
"Our sympathies go our to their families and go out to Pakistan."
"As for our relationship with Pakistan, it continues to be an important cooperative relationship that is also very complicated," said Mr Carney.
'Under fire'
The night-time attack took place at the Salala checkpoint in the Mohmand district, about 1.5 miles (2.5 km) from the Afghan border, early on Saturday morning.
The Pakistani army said helicopters and fighter aircraft hit two border posts, killing 24 people and leaving 13 injured. Local officials said the two posts were about 300m apart on a mountain top.
Unnamed Afghan officials quoted in The Wall Street Journal said Saturday's attack was called in to shield Nato and Afghan forces who had come under fire.
One official quoted in the paper said that Kabul believed the shooting came from an army base.
"This is not true. They are making up excuses. What are their losses, casualties?" Pakistani army spokesman Maj-Gen Athar Abbas said in response to the allegations.
Military sources earlier told the BBC that a US-Afghan special forces mission had been in the area, where a Taliban training camp was believed to be operating.
They said the mission came under fire from a position within Pakistan, and they received permission from the headquarters of Nato's Isaf mission to fire back.
On Monday an Afghan defence official with direct knowledge of the attack told the BBC's Bilal Sarwary in Kabul that Nato was targeting high level Afghan and Pakistani Taliban commanders, including a foreign militant training suicide attackers in the Khas Kunar area close to the Pakistani border.
Officials say that these training camps were not far from Pakistani checkpoints.
'Grave infringement'
But Maj-Gen Abbas said that the raid went on for more than an hour and continued even after local commanders contacted Nato telling them to stop the strike, according to the Associated Press news agency.
Pakistani officials have consistently maintained that there had been no militant activity in the area, and most of the Pakistani soldiers were asleep. They also said Nato had the grid references of the posts and therefore should not have fired.
Pakistan's Prime Minister Yousuf Raza Gilani called it a "grave infringement of Pakistan's sovereignty" and officials responded by cutting key Pakistani supply lines to Nato in Afghanistan.
The BBC's Ilyas Khan in Islamabad says that public anger has intensified amid growing demands from Pakistan's opposition parties to sever all ties with the US.
On Monday lawyers staged protests across the country and Reuters news agency reported that Pakistan's fuel suppliers had said that they would not in the immediate future resume supplies to Nato forces in Afghanistan.
Nato chief Anders Fogh Rasmussen said he had written to Mr Gilani to "make it clear that the deaths of Pakistani personnel are as unacceptable and deplorable as the deaths of Afghan and international personnel".
Nato has said it is investigating what happened.
The incident looks set to deal a fresh blow to US-Pakistan relations, which had only just begun to recover following a unilateral US raid that killed Osama Bin Laden in Pakistan in May.
Pakistani troops are fighting the Taliban in the crucial border region. Hundreds of militants have been resisting attempts by the security forces to clear them from southern and south-eastern parts of the district.