Philippines' Gloria Arroyo 'can leave hospital'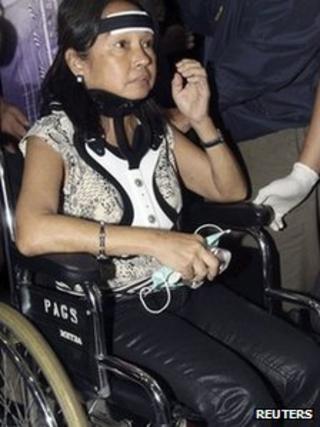 Former Philippine President Gloria Arroyo has recovered enough to leave hospital, her doctors say.
Mrs Arroyo is being detained in hospital after being arrested on election fraud charges last week.
But her doctors have told court she can be treated as an out-patient, and her lawyers now want her to be held under house arrest at her home.
She has been trying for weeks to leave the country, saying her rare bone disease needs treatment abroad.
She denies any wrongdoing and her lawyers say the charges are fabricated.
The Election Commission has filed charges accusing her of cheating to win a seat in the Senate for one of her supporters during the 2007 election.
She was placed under hospital arrest, but the commission filed a request for the court to investigate rumours that her health was improving.
One of her doctors, Dr Mario Ver, told the court that she was now well enough to be treated as an out-patient.
Her opponents have immediately said she should be put in jail, but her lawyers say they will now ask the court to allow her to return home.
Raul Lambino, one of her lawyers, told reporters that there had been a "marked improvement" in her condition.
"We have to be truthful to the court, and so we withdrew the [earlier motion] for hospital arrest," he said.
The lawyers plan to file another motion for house arrest next week.
Politics in the Philippines is notorious for corruption, vote-rigging and long-running bitter rivalries between clans and families.
Mrs Arroyo, herself the daughter of a former president, has been surrounded by corruption allegations for years, and survived several attempts to have her impeached while in office.
Her predecessor Joseph Estrada was jailed for corruption, and former authoritarian leader Ferdinand Marcos amassed a vast fortune by embezzling public money.