Noorullah Delawari named to head Afghan central bank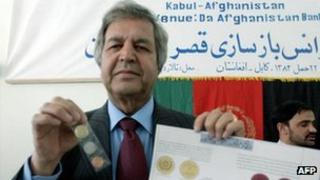 Afghan President Hamid Karzai has nominated a new central bank governor after the previous head fled to the US saying his life was in danger.
The nomination of Noorullah Delawari has to be approved by parliament, which is expected to meet on Saturday.
Previous governor Abul Qadir Fitrat quit in June claiming he was under threat for investigating fraud at the privately-owned Kabul Bank.
The government condemned his decision, adding that he was under investigation.
Mr Fitrat claimed the government had interfered in his efforts to pursue those responsible for corruption at the Kabul Bank, which almost collapsed in 2010 after evidence of large-scale embezzlement emerged.
The bank handled up to 80% of the government payroll, including salaries for policemen and teachers. A run on the bank was avoided only by government guarantees and the injection of massive amounts of public funds.
Aid payments
Currently the chief of an Afghan investment support NGO, the new nominee Mr Delawari previously served as director of the central bank between 2004 and 2007. He sits on the bank's board as well.
He is an Afghan American and is said to be a trusted acquaintance of the president.
But correspondents say the appointment may not be without controversy. His critics claim that he does not have a good record from his previous stint as director of the bank.
The post of governor has been vacant for five months and analysts say the most pressing item on the agenda will be rebuilding Afghanistan's financial sector after the state spent millions to bail out the Kabul Bank.
Investigators say the private bank, founded in 2004, made hundreds of millions of dollars of inappropriate loans. When it was bailed out in September, the central bank took control of its finances.
The crisis had important ramifications for international assistance to Afghanistan.
Only this month the International Monetary Fund (IMF) agreed to resume support for the country after an almost year-long disagreement over how to handle the Kabul Bank crisis. The IMF wanted the bank to be placed in receivership.
Britain also suspended a $140m (£85.6m) payment in aid to the country shortly after the crisis.
President Karzai has pledged to fully investigate those involved.