Flood-hit Thailand economy's long road to recovery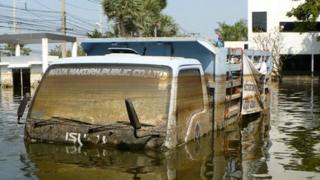 Thailand is beginning the process of cleaning up after recent devastating floods.
The water has not completely drained away in all areas, but where it has disappeared people are understandably keen to rebuild lives put on hold by the deluge.
Bright yellow bulldozers shovel piles of rancid rubbish into the backs of trucks while people wipe the mould from the walls of houses and bits of furniture.
Anusorn Jamjaras's wooden street-food stall was ruined by the floods.
So he is building a new one from scratch, sawing planks of thin plywood while the clean-up goes on around him.
"I've had to use my savings to do this," he says. "But it's time to move on. I feel like I'm starting a new life from zero."
Supply chain hit
The effect of the floods on Thailand's economy has been profound. Small traders and multinationals alike have fallen victim to the water.
Seven huge industrial estates were abandoned to the deluge, despite strenuous efforts to reinforce barriers and government promises that they would be protected at all costs.
Thailand has for decades been the primary manufacturing hub in South East Asia, exporting to industries around the world. The floods have badly disrupted global supply chains.
About 45% of the world's computer hard-drives are produced in Thailand, but manufacturers like Toshiba and Western Digital have shut down operations at waterlogged plants.
Shortages are predicted well into next year, potentially pushing up prices of PCs worldwide.
As the water recedes, questions are being asked about when or even if locally based businesses will recover.
'Like a movie'
Navanakorn Industrial Estate just north of Bangkok is even now still deep under water. The only way to navigate what used to be main roads is by boat.
Familiar names - Panasonic, Nissan, Nestle - are now surrounded by a glistening lake of filthy water.
David Bellay, general manager of Kolang, a company which manufactures electrical components, sits in a blue plastic boat, with a handful of colleagues and an electric water pump.
As he makes his way back to his factory, he is still struck by the images around him. "It's like a movie," he says.
Six of his employees have been living on the upper floors of his flooded buildings, acting as security guards. Food and water has been ferried into them regularly.
"At the beginning we didn't really believe the water would reach this area," David says. "We took the decision three days before the water came to move up the machines.
"One day before we sent everyone home. Everything moved really fast. We didn't believe this could actually happen."
Customer fears
Further north, in the province of Ayutthaya, the floods have receded and companies are now able to assess the damage.
Hana microelectronics is one of those counting the cost.
Employees have been busy scrubbing floors and examining equipment to try to get things up and running again as quickly as possible.
"We can get into full production in three or four months," the company's Chief Executive Richard Han says. "But will my customers feel comfortable to come back?"
The water here rose two and a half metres in a matter of hours. They rescued as much machinery as they could, floating it to safety on special rafts.
Hana exports highly specialist parts used in everything from mobile phones to computers. Mr Han says local jobs, global supply chains and investor confidence are all now at stake.
"I don't think companies that are already there (in industrial estates) will move out tomorrow and I won't be moving out tomorrow. But will I be expanding there? Hmmm. I'll wait and see what's going to happen."
Mr Han wants to see the government taking decisive action to help businesses by cutting red tape, waiving tax on insurance claims and taking steps to improve flood preparation and defences.
It will take many months of hard work and billions of dollars of hard cash before Thailand fully recovers.
More investment still will be needed to prevent future disasters. The true cost of Thailand's worst floods for half a century is still being counted.