Pakistan's new US envoy takes on 'toughest job'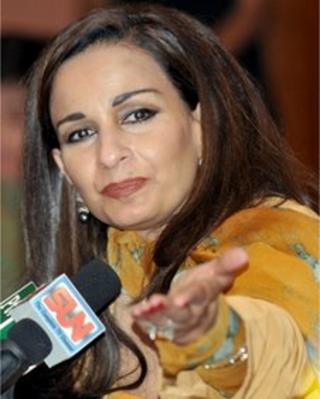 Pakistan's new envoy to the US, Sherry Rehman, will be painfully aware of what she is stepping into as she prepares herself for what in Pakistan is known as the toughest job in Washington.
The ambiguity and confusion surrounding the resignation of Husain Haqqani is a vivid illustration of the web of intrigue which has greeted every Pakistani envoy to the US since Pakistan became a frontline state in the US efforts against global extremism.
Not only will Ms Rehman find herself facing a cynical and suspicious US administration which has become increasingly impatient with Pakistan's inability to take on the extremists operating from its soil.
She will also have to tread with extreme caution when interacting with US officials over the seemingly relentless simmering tensions between her country's civil and military leadership.
At this stage, few can say with confidence which of the two may prove to be the greater of her challenges.
Political minefield
Her predecessor was highly regarded as a wheeler-dealer.
Husain Haqqani's phenomenal networking capabilities and advice had proved invaluable to Benazir Bhutto, and before that to her political rival, Nawaz Sharif.
When the Pakistan People's Party swept to power soon after Ms Bhutto was assassinated, Mr Haqqani emerged as the natural candidate for the ambassador's job in Washington.
His top priority was to convince the US administration to work with the new civilian government in Islamabad.
As eventually became evident, it turned out to be a political minefield.
The US had launched its war on extremism in alliance with Gen Musharraf. By the time Pakistan's military ruler bowed out, his country's efforts against Taliban or al-Qaeda affiliates were faltering and there were increasing concerns within the US administration that Pakistan was playing a double game.
As evidence of Pakistan's duplicity mounted, it became increasingly difficult for Mr Haqqani to defend Pakistan's policy and to prevent a perception from taking root that Pakistan's civil and military leadership were poles apart on how the so-called war on terror was to be handled.
The situation became so tense that senior security officials were found murmuring to journalists that they were becoming unsure of who was hurting Pakistan more in Washington - their adversaries or their own ambassador.
The truth behind the controversial memo which led to Mr Haqqani's resignation will perhaps never be known. Senior security officials in Pakistan told the BBC Urdu Service that they had concluded their investigations into the memo in October this year, were confident that it had originated from the presidency but were unclear about how much President Asif Ali Zardari or Ambassador Haqqani had to do with it.
They also claimed that the military leadership did not press for the resignation of Mr Haqqani and it came about on the insistence of the foreign office - officials there believed Mr Haqqani viewed them with contempt.
Rehman's challenge
However, these carefully worded conversations answer none of the questions emerging from the scandal now known in Pakistan as "memogate".
Why would a president as careful as Mr Zardari has been over the past three years agree to an act so controversial that it could potentially jeopardise his government? Especially when it was obvious that it would have very little result other than trouble?
Why would he fear a military coup at a time when the military leadership was under intense pressure from the US to explain itself after Osama Bin Laden's killing in Abbotabad and he was the only mainstream political leader to openly support the army?
Having worked so hard at establishing a working relationship with Pakistan's military leadership, why would he or his ambassador rely on a lobbyist in Washington who had no history of loyalty to Mr Zardari or the party to convey the alleged memo seeking US help against Pakistan's military?
These questions are unlikely to be answered soon or perhaps ever. What is evident, though, is that the military leadership may not be too displeased to see the back of Mr Haqqani at a time when senior US officials are becoming less and less discreet in voicing their annoyance with Pakistan's perceived duplicity on dealing with the Taliban.
And that to a great extent defines the context in which Ms Rehman will take up her new assignment.
She has to keep the Americans convinced of the need to work with and support the political government without drawing too clear a line between the army and the civilian leadership when it comes to tricky questions regarding the country's policy towards the Taliban.
Unlike Mr Haqqani, she has neither any experience in the delicate art of international diplomacy nor, being a loyal party person, unqualified support from the Pakistan army.
What she does have, though, and what perhaps her predecessor lacked, is an ideologically and politically consistent history without any party hopping or ideological swings.
More importantly, unlike Mr Haqqani, whether it is Pakistan's military or civilian leadership or the US administration, anyone dealing with her will have the confidence that she is just what she comes across as, a straight-talking politician rather than a career bureaucrat skilled in the art of double speak and intrigue.