Profile: Pakistan's new US envoy Sherry Rehman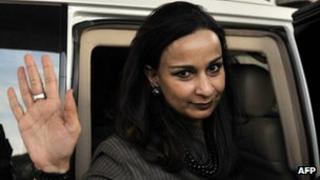 The new Pakistani ambassador to the US, Sherry Rehman, is one of Pakistan's most prominent liberal politicians, whose support for a repeal of the country's blasphemy laws and womens' empowerment has in recent months led her to fear for her life.
She has much in common with her former boss Benazir Bhutto - assassinated in 2008 - both glamorous, independently wealthy and female parliamentarians in one of the most conservative countries in the world.
Born in Karachi in 1960 to a prominent Sindhi family - her father was a lawyer and her mother was the first female vice president of the State Bank of Pakistan - she was educated at the University of Sussex.
Ms Rehman began her career as a journalist, writing for national and international newspapers for 20 years.
She was editor-in-chief of Pakistan's leading news magazine, The Herald, and anchored a television current affairs in 1999.
A lifelong member of the Pakistan People's Party, she was elected to the Pakistani parliament in 2002 under a reserved seats scheme for women. Six years later she was appointed national minister for information and broadcasting - sworn into her position by President Musharraf.
In parliament Ms Rehman highlighted human rights issues and played a major role in passing key legislation relating to women's rights.
Murdered
She also campaigned against so-called "honour killings", domestic violence and for media freedom. Around this time she worked closely with Ms Bhutto.
Ms Rehman resigned as information minister in March 2009, accusing the the government of dragging its feet over restoring an independent judiciary. She departed after failing to convince the president to lift a transmission ban on the Geo television channel.
After her resignation Ms Rehman worked for the Pakistan Red Crescent Society and the Jinnah Institute, a non-partisan think-tank reported to be ideologically close to the army. Her predecessor as ambassador to the US, Husain Haqqani, was widely distrusted by the military.
Her career on the backbenches effectively came to an end in late 2010, when she provoked the wrath of hardline Islamists and religious groups by submitting a private member's bill seeking to abolish the death penalty for blasphemy after a Christian mother was sentenced to death.
For a time, she was confined to her home in Karachi with concerns over her safety mounting when her fellow campaigner, PPP politician Salman Taseer, was murdered by his bodyguard in January.
That concern was heightened when two months later, Pakistan's Minorities Minister Shahbaz Bhatti was also killed in Islamabad.
Analysts say that her appointment as US ambassador is a face-saving formula which removes Ms Rehman from the dangers threatening her in Pakistan while at the same time putting in place a representative who is far less threatening to the military.
Ms Rehman is married to banker Nadeem Hussain.