Qantas Twitter contest draws thousands of angry replies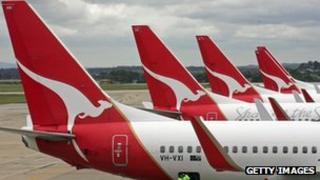 A Twitter competition has drawn thousands of angry responses after Australian airline Qantas launched it amid a major labour dispute.
The airline asked people to describe a "dream luxury in-flight experience", offering Qantas gift packs as prizes.
But users of the micro-blogging service instead used the competition to vent their frustration with Qantas.
The contest ran a day after talks with unions broke down, and after Qantas grounded its entire fleet in October.
Thousands of passengers were stranded worldwide after the firm halted flights in an attempt to end months of strike action by workers angered by the firm's restructuring plans.
The "Qantas Luxury" promotion, launched on 22 November, quickly tapped into customers' ire.
"Qantas Luxury means sipping champagne on your corporate jet while grounding the entire airline, country, customers & staff," one Twitter user wrote.
"Qantas Luxury is getting my flight refund back after waiting almost a month," wrote another.
One Tweeter suggested the phrase meant "more than 3mins notice that the whole airline is on strike".
Social media commentator Peter Clarke wrote: "Epic PR fail, excellent case study in corporate cultural tone deafness. Simply don't get it".
But the airline put a brave face on what is being seen as a debacle, Tweeting: "At this rate our #QantasLuxury competition is going to take years to judge".
When Qantas grounded its fleet in late October, Australian Prime Minister Julia Gillard said its bosses had taken "extreme and irresponsible" action.
Unions are reported to be considering more disruptions to Qantas flights, while the government's industrial relations umpire is beginning work to impose a new wage agreement between the airline's management and workers.