Afghan team probing Rabbani murder arrives in Pakistan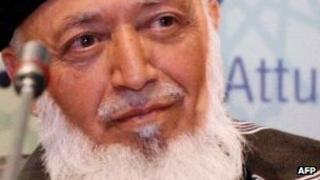 An Afghan delegation investigating the assassination of former Afghan President Burhanuddin Rabbani has arrived in Islamabad.
The fact that the team has permission to conduct investigations in Pakistan marks an unusual diplomatic gesture by Islamabad, correspondents say.
Mr Rabbani was killed in September by a man posing as a Taliban peace envoy.
Afghan officials believe his killer was a Pakistani, but Islamabad has denied all charges of involvement.
Mr Rabbani had been leading Afghan efforts to negotiate with the Taliban and the Afghan government has said it believes forces in Pakistan were behind the suicide attack that killed him on 20 September.
Earlier this month Afghanistan and Pakistan agreed to jointly investigate his murder in what was seen as a warming of relations between the two countries.
Senior Afghan intelligence officials told the BBC that they would share evidence with their Pakistani counterparts.
The visiting delegation wants Pakistan to arrest all those involved in the assassination of Mr Rabbani, whose death was one of the most high profile assassinations of an Afghan politician in recent months.
The BBC's Bilal Sarwary, in Kabul, says Afghan officials hope Pakistan will arrest several Taliban figures including a local commander who openly operates in the city of Quetta on the border with Afghanistan's Kandahar province.
Afghan officials say that they were finally granted visas to travel to Pakistan after a delay of nearly three months.
The delegation is led by the deputy intelligence chief and is being hosted by Pakistan's interior minister, Rahman Malik,.
Mr Rabbani - a former mujahideen commander - was president of Afghanistan during the country's civil war in the 1990s.