South Korea remembers Yeonpyeong island attack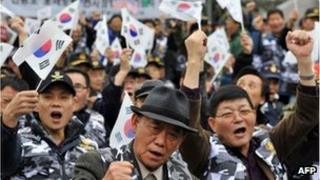 Solemn ceremonies have been held in South Korea marking one year since North Korea shelled a southern island, plunging the peninsula into crisis.
Prime Minister Kim Hwang-sik said his country had worked hard to ensure that the North could never again engage in such "reckless provocations".
The South plans to hold military drills later near the maritime border.
Northern forces hit Yeonpyeong island with dozens of shells last year, killing two soldiers and two civilians.
It was the first artillery attack by the North on a civilian area since the end of the Korean War in 1953.
And the BBC's Lucy Williamson in Seoul says the impact of the attack went far beyond the loss of life.
Opaque politics
The public reacted furiously to their military's perceived weakness, the defence minister was replaced, and military equipment and personnel were bolstered.
Our correspondent says it led to South Koreans viewing their northern neighbours in a new light - no longer as brothers, some said, but for the first time in 60 years, as enemies.
Thousands of officials gathered at Daejeon National Cemetery on Wednesday for a memorial ceremony alongside the families of the two soldiers who were killed in the attack.
Prime Minister Kim told them: "We will use all our power to establish a firm national defence posture to neutralise any North Korean determination to provoke."
Later, the military plans to hold large-scale drills intended to simulate the North's attack on Yeonpyeong to test the South's readiness to deal with a similar attack.
The North said it carried out the Yeonpyeong attack because it was provoked by the live-fire drills held by southern forces in the area.
But analysts have speculated that the attack was linked with the North's opaque internal politics.
Long-time leader Kim Jong-il is believed to be attempting to transfer power to his son, Kim Jong-un.
The shelling may have been at attempt to boost the largely unknown Kim Jong-un's standing among the people.
Yeonpyeong lies in the Yellow Sea west of the Korean Peninsula, close to the disputed maritime border dividing the two nations.