US multinational Dole scraps Sri Lanka banana plans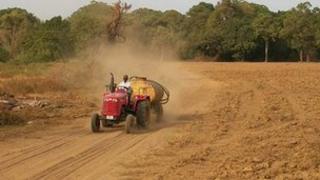 Conservationists in Sri Lanka have welcomed a decision by US-based multinational food firm Dole to abandon plans for a huge banana plantation.
Campaigners say Dole had hoped to team up with a local company, Letsgrow Ltd, to plant the bananas in Somawathiya National Park.
The park is home to elephants and other endangered species, activists say.
In a statement to the BBC, Dole said it had "ceased all commercial operations" on the land and was vacating it.
It denied earlier that the plantation would have been located on "land designated as forest land".
"The Department of Wildlife Conservation has been requested to visit the area for their confirmation," the statement said.
It said that Dole had met several Sri Lankan environmental and conservation groups in relation to claims by them that part of the proposed area of cultivation was in the park.
One of these groups, the Environmental Conservation Trust of Sri Lanka, says that an area of about 5,000 acres was earmarked for the plantation, which would have necessitated a "massive clearing of forestry" in an area populated by rare leopards, birds and water buffalo.
The trust said that Letsgrow Ltd - owned by cricketers Pramodya Wicramasinghe and Muttiah Muralitharan - acquired the land from the army.
The trust's statement said that while it recognised the need to rebuild Sri Lanka after decades of war, the proposed plantation was in the catchment area of the River Mahaweli which provides water to many animals in the national park.
"The damage inflicted would be too great compared with the benefits acquired," the statement said.
It said that Dole could easily have selected suitable land elsewhere without violating Sri Lanka's environmental laws.
But the company says that it is committed to conservation and environmental protection, "in addition to providing meaningful employment and benefits for local communities".