India rupee hits all-time US dollar low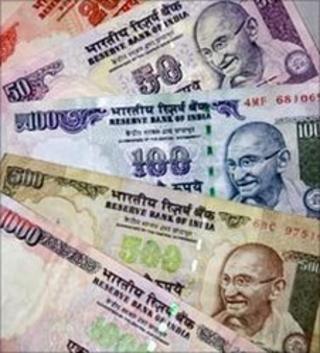 India's rupee has hit an all-time low against the US dollar, with companies buying the greenback amid continuing fear about the global financial crisis.
The rupee plunged to 52.50 to the dollar on Tuesday, sparking new inflation concerns. The rupee has now fallen 14% since the start of 2011.
Delhi said the fall reflected market uncertainty and urged against an "overreaction".
The fall is also due to some investors leaving emerging markets, analysts say.
"At this moment, the dynamics seem to be pretty much against all emerging market currencies and that's not really helping the rupee," economist Siddartha Sanyal told AFP news agency.
The previous rupee low was in March 2009.
Shares rise
India's finance ministry has said that the central bank - the Reserve Bank of India - had only a "limited" ability to curb the fall of the rupee.
Trade secretary Rahul Khullar urged investors not to "overreact" to the weakening rupee.
Finance Minister Pranab Mukherjee said the fall reflected uncertainty in the international markets.
"We expect there will be a self correction," he said.
Foreign investment in Indian equities has slumped this year, with India's market regulator putting the figure for 2011 so far at a net $530m, compared with $28.9bn during the same period last year.
Interest rates have been increased regularly over the past 18 months to try to curb overheating, but price rises remain a concern.
A weaker rupee makes imports more expensive and India is a massive oil importer.
On Tuesday, the Sensex index of leading shares was up slightly, after falling 2.6% on Monday. There had been eight straight sessions of decline.
Kishor Ostwal, chairman at CNI Research, told Reuters: "So long as the rupee is falling, I don't think anything can change fundamentally. What we are seeing today is purely because of short covering."
The rupee remains the worst performing of Asia's 10 most-traded currencies.