US state department removes India-Pakistan maps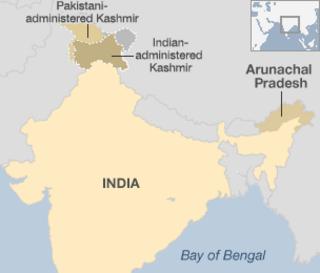 The US state department says it has removed what it called "inaccurate" maps of India and Pakistan from its website.
The maps failed to show the divided territory of Kashmir as a disputed region, Indian media reports say.
India and Pakistan have fought two wars over Kashmir and both countries claim the region in its entirety.
Most maps depict Kashmir as a disputed region provisionally split into areas under Indian and Pakistani control.
"We have taken the map [of India] off the website. It did contain some inaccuracies which were associated with the boundaries of some geographic features," state department spokesperson Victoria Nuland told reporters on Monday.
"We will put up the new map when we acquire one that we are confident is accurate," she said.
Highly sensitive
The move comes after Delhi reportedly raised objections with the US that the India map ignored India's claim on Kashmir while the corresponding map of Pakistan showed Pakistani-controlled Kashmir as part of Pakistan without acknowledging its disputed status, according to Indian media reports.
The disputed border between India and China in the Aksai Chin region in the north, however, did reportedly acknowledge an Indian claim.
"The government has consistently rejected incorrect depiction of India's borders on maps used by the US government," the Indian ministry of external affairs said.
Earlier in November, China's ambassador to India became involved in a heated exchange with an Indian journalist at a business function over a map that showed parts of India within China's border.
The map showed the state of Arunachal Pradesh and Ladakh in China and a disputed part of Kashmir as Pakistani territory.
Correspondents say the depiction of the disputed borders between India, Pakistan and China are highly sensitive and potentially incendiary issues in the region.