Arrest over deadly China kindergarten minibus crash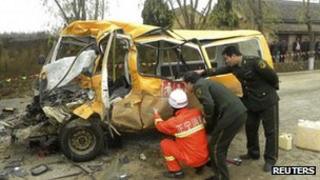 Chinese authorities have arrested the owner of a kindergarten that was operating an overloaded minibus involved in a fatal crash.
Nineteen children and two adults were killed when the minibus collided with a lorry in Gansu province.
A total of 64 people - two adults and 62 children - were in the nine-seater minibus when it crashed. The seats had been removed to cram in more people.
A prosecutor said that the kindergarten head faced a possible jail term.
"Li Jungang, the chairman of the kindergarten, was arrested on charges of causing a traffic accident," Yuan Suiming, deputy chief prosecutor in Zhengning, told AFP news agency.
"He could be given a sentence of more than seven years in prison."
All of the other 43 children, between the ages of three and five years old, were injured in the 16 November crash.
The state-run Xinhua news agency reported that seats had been removed from all four minibuses owned by the kindergarten, which was attended by more than 700 children.
Quoting local officials, the Xinhua report said parents of children who died would receive compensation of 436,000 yuan ($68,500, £43,500).
The privately run kindergarten is to be closed, Xinhua reported, and replaced with a publicly run facility.
More money would be found to build new public kindergartens in the area, it quoted a statement from local government officials as saying.
Correspondents say school buses are often overloaded in China, and children are increasingly being forced to travel further as schools close in rural areas hit by migration to the cities.