Tokyo 1995 sarin attack: Aum Shinrikyo cult trials end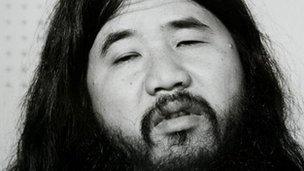 Japanese judges have upheld the death sentence against the final member of a doomsday cult to be charged over the 1995 sarin gas attack on Tokyo's metro.
The ruling brings to an end 16 years of prosecutions, and leaves 13 members of Aum Shinrikyo facing execution.
Thirteen people were killed when the group released sarin gas in the metro.
Aum Shinrikyo began as a spiritual group mixing Hindu and Buddhist beliefs, but developed into a paranoid doomsday cult obsessed with Armageddon.
On Monday, judges in Tokyo rejected the final appeal of Seiichi Endo against his death sentence.
He had studied viruses and genetic engineering at university and helped make the sarin gas.
His lawyers had argued that he did not know what the gas was to be used for, and that he was under the mind control of group leader Shoko Asahara and could not refuse him.
He was convicted of murder in the Tokyo attack, and also for his involvement in another sarin attack in the central city of Matsumoto in 1994.
"We heard no words of remorse, no words of apology. This shows what Aum really is," said Shizue Takahashi, whose subway worker husband died in the Tokyo attack.
Former yoga teacher Shoko Asahara started the group in the mid-1980s, and later claimed to have reached enlightenment after a trip to India.
By the time of the Tokyo attack, the group was reputed to have thousands of members, including rich and powerful members of Japanese society.
But Asahara became obsessed with the idea that World War III was about to break out, and began ordering attacks on people he regarded as enemies.
Some 189 Aum cultists have been put on trial over the various attacks carried out by the cult, and 13 sentenced to death, including Asahara. None of the sentences have been carried out.
Three members are still thought to be on the run.
Aum Shinrikyo reinvented itself as the Aleph group, which continues to operate as a spiritual group.
Aleph said in a statement that it was disappointed Endo had not spoken during his trial to give the victims' families a chance to understand what had happened.
The group has asked for a stay of execution for all the Aum cultists.