'No casualties' in north-east India earthquake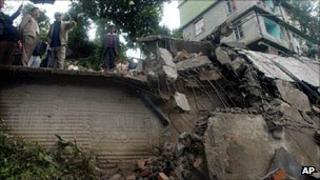 An earthquake with a magnitude of 5.9 has stuck India's north-east, but there are no reports of any casualties.
The tremor was felt at 0847 local time (0317GMT) in parts of Assam, Nagaland and Manipur states, reports said. It was also felt in Bangladesh.
The epicentre was recorded in Burma, about 130km (80 miles) east of Manipur, the US Geological Survey said.
Nearly 100 people were killed in a deadly quake that hit north-east India, Nepal and Tibet in September.
In Guwahati, capital of Assam state, buildings shook for a few seconds and people ran out into the streets, the AFP news agency reported.
There were no immediate reports of damage, barring minor cracks in some buildings, reports said.
A magnitude 6.9 quake struck the mountainous north-eastern state of Sikkim in September, leading to loss of lives and considerable damage.
Casualties and destruction of property were also reported from across the border in Tibet and Nepal.