India: Uttar Pradesh assembly backs state division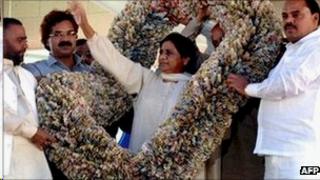 The assembly in the northern Indian state of Uttar Pradesh has passed a resolution which seeks to divide the state into four smaller ones.
The resolution was passed amid protests from several opposition parties.
Chief Minister Mayawati proposed the division of the most populous and politically influential state last week.
The resolution now has to be passed by the Indian parliament and the exercise could take months, or even years.
India with its billion-plus people has 28 states.
Correspondents say Ms Mayawati's proposal is a politically astute move ahead of the upcoming elections in Uttar Pradesh.
The state assembly held a "voice vote" for the resolution, which means that the vote is awarded to the side which gets the loudest chorus of support. Votes were not cast electronically or by paper.
The plan is aimed at winning over people living in different parts of Uttar Pradesh who have been demanding separate states, correspondents say.
Ms Mayawati has proposed splitting Uttar Pradesh, one of India's largest states, into four states called Avadh Pradesh, Purvanchal, Bundelkhand and Paschim Pradesh.
If that were to happen, Uttar Pradesh, which has 80 seats in the parliament, would lose its pre-eminent political status.
Ms Mayawati says the decision to divide the state has been taken because of popular demand. Opposition parties say the move is "politically motivated".
Uttar Pradesh is India's most populous state with 200 million people living in 75 districts. It has also produced most of the country's prime ministers.
Analysts say it will be difficult for the federal government to concede to the demand as it is already facing protests over the demands for the formation of a new state of Telangana in Andhra Pradesh.
With a population of 40 million, the proposed Telangana state comprises 10 of Andhra Pradesh's 23 districts, including the state capital and India's sixth most populous city, Hyderabad.