Burma's Aung San Suu Kyi targets by-election seat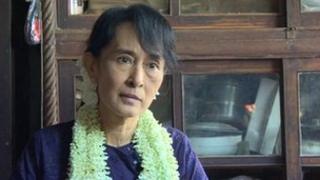 Aung San Suu Kyi will try to win a seat in Burma's parliament in forthcoming by-elections, her party has confirmed.
Ms Suu Kyi and her National League for Democracy (NLD) have operated outside of the political system for years.
They won a landslide election victory in 1990 but the result was never recognised by the ruling generals.
However, in recent days the NLD and the international community have given cautious praise to reforms undertaken by the current government.
The US announced it would sent Secretary of State Hillary Clinton to the country for the first such visit in 50 years.
And the regional political bloc Asean confirmed Burma had reformed enough for it to hold the chair of the group in 2014.
Signs of change
The NLD announced on Friday that it was dropping its boycott of elections and would put up candidates for all 48 seats that have been available in a series of by-elections left vacant by reshuffles.
Ms Suu Kyi did not confirm whether she would be a candidate.
However, on Monday, NLD official Nyan Win told reporters: "Aung San Suu Kyi intends to stand for the by-election but it's a bit early to say from which constituency she will run."
Analysts speculated that Ms Suu Kyi could be an MP before the end of the year.
The NLD's 1990 election victory stunned the country's authoritarian rulers, and they refused to acknowledge the result.
Burma suffered a period of intense repression after that election, and Ms Suu Kyi spent much of the following 20 years in jail or under house arrest.
The military junta eventually wrote a new constitution, which entrenched the power of the military.
They held a sham election last year that was boycotted by the NLD - the only opposition group strong enough to challenge the army.
However, President Thein Sein - himself a member of the former ruling junta - has instituted enough reforms for observers to believe that real change may be taking place in the country.