Afghan police killed during Nato night raid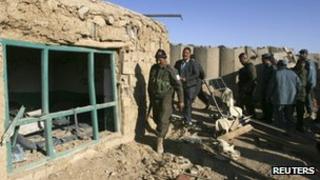 Two Afghan police officers have been killed in a clash with Nato-led forces who were conducting a night-time raid, say officials in Afghanistan.
The "friendly fire" incident happened in Ghazni province, southwest of Kabul.
Two other Afghan soldiers were injured, according to the provincial governor.
President Hamid Karzai has called repeatedly for an end to night raids, which are used by international forces to search for insurgents hiding in civilian homes.
The police chief in Ghazni, Dilawar Zahid, said the shooting happened when a convoy from the Nato-led International Security Assistance Force (Isaf) refused to obey police orders to stop.
"A convoy of foreign forces from Kabul were heading towards Ghazni when they were stopped by Afghan police. They opened fire on the police checkpoint, killing two police," he said.
A statement from Isaf, however, said a combined coalition and Afghan patrol had called in air support after being fired on at a checkpoint by rocket-propelled grenades, mortar bombs and guns.
"After multiple attempts to identify themselves as friendly forces, the security force was unable to stop the threat and engaged the checkpoint in self-defence, killing two individuals," said an Isaf statement.
Friction
Night-time raids have been a continuing source of friction between Isaf and the Afghan government.
On Wednesday President Karzai repeated his call for an end to the operations, which are not usually co-ordinated with the Afghan police.
"We don't want parallel structures alongside our government," he told tribal elders at the start of a big four-day meeting (loya jirga) in Kabul.
Mr Karzai has attempted to make ending the raids a precondition for signing a long-term security agreement with the United States.
He has argued strongly that the pact is necessary to set out the role of US forces in Afghanistan after 2014.
However, he says the "kill or capture" raids are wrong and he also wants all detention centres in Afghanistan to come under the control of his government.
The AP news agency reports that the majority of delegates at the loya jirga gave their backing on Saturday for Mr Karzai's stance.
The jirga's position is not binding, but analysts say it is likely to bolster the president's negotiating stance.
Mr Karzai was scheduled to address the loya jirga again on Saturday.