Obama stirs up China's sea of troubles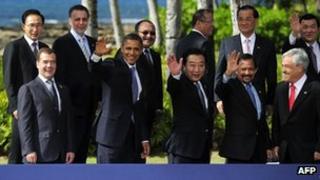 The past week has been a bit like watching a play in three acts.
In three different locations President Barack Obama has been delivering his lines, reasserting America's role as an Asia-Pacific power, and clearly discomfiting China.
The result is that Beijing is bristling with irritation.
In Act One, the scene is the Apec summit in Hawaii. The themes of the week's drama begins to appear. Asia is America's new focus, Mr Obama wants the US to re-engage, he will seek co-operation with a rising China, but not cede ground to it.
The revelation in this act was economic. The US is moving fast to try to establish the Trans-Pacific Partnership, a free-trade area that will unite nine nations. With Japan, Canada and Mexico all indicating they are interested too, the TPP suddenly looked as though it could be a significant size.
The message to China was that it was welcome to join but it would have to deliver economic reforms it may find unpalatable, by making its currency convertible, opening up its markets more to foreign firms and doing more to protect intellectual property.
Mr Obama was openly critical, saying China was now a "grown-up" and must "play by the rules". That's drawn an angry response in a commentary published on Friday by the state-controlled Xinhua news agency.
"For many around the world it is the United States that routinely flaunts (sic) widely accepted international rules," the commentary said, adding: "It spoke volumes for America's arrogance towards the rules it requires other countries to follow when it detoured around the UN Security Council in 2003 to overthrow Saddam Hussein on the basis of flawed intelligence."
"Today, when the world is still facing many difficult global challenges, the United States needs to first revisit its double standards on international rules and start observing them itself instead of lecturing China."
'Containing China'
Act Two - the scene is Australia. Mr Obama's revelation here was military. America will deploy 2,500 troops to Darwin not too far from the South China Sea.
At the same time Secretary of State Hillary Clinton was in the Philippines building on its strong military ties with the US, and offering support in its territorial disputes with China.
"Disputes that exist primarily in the West Philippine Sea between the Philippines and China should be resolved peacefully," she said, pointedly using the name the Philippines gives to the contested waters.
"Any nation with a claim has a right to exert it, but they do not have a right to pursue it through intimidation and coercion."
China's neighbours have complained about its increasing assertiveness in staking its claims in the South China Seas. So the US is signalling it is strengthening alliances and spreading its reach in Asia, saying it is not aimed at countering China, but designed to preserve regional stability.
The move has caused more consternation in Beijing, where some have seen it as an attempt to "contain" China and encircle it with US bases and alliances.
In an editorial the Global Times newspaper, produced by the Communist Party's People's Daily group, thundered that it was "unrealistic to expect China to stand idly by and indulge Asian countries as they join the US alliance to guard against China one by one".
'Outside forces'
And so to Act Three - the scene is Bali. Having signalled his intentions Mr Obama moved to show America will be a player in Asia's affairs.
The US, he said, wanted to discuss the disputed South China Seas at the East Asia Summit with 18 nations including China, and all Southeast Asian countries around the table.
The South China Sea matters not only because it has rich oil and gas resources, and some of the world's busiest trade routes, but also because it is where the competing interests of the US and China overlap in Asia.
And it's where the frictions between a rising China and its neighbours are most pronounced.
China claims almost all of the sea. It wants to discuss its territorial disputes individually with nations like the Philippines and Vietnam. Their concern is that one on one it is far harder for them to resist Chinese pressure, and they welcome the idea of the US being at the table.
China's irritation could be seen when Premier Wen Jiabao told South East Asian leaders that "outside forces should not get involved under any excuse".
'More profitable'
In response to Mr Obama's moves China is now seeking to leverage its growing economic power, aware that this is its most potent weapon against America.
Mr Wen told Southeast Asian leaders that China-Asean trade is expected to surpass $350bn this year. That's over 40 times the $8bn it was 20 years ago and catching up on the level of China-US trade, which stood at over $450bn last year.
He pledged $10bn credit for infrastructure projects in the region, and promised more trade and financial co-operation.
Mr Obama is seeking to draw closer to Asian nations by highlighting common interests they share with America as open-market democracies with concerns about a rising China.
But Mr Wen made his own appeal to those countries highlighting the fact that China and its neighbours have shared interests as developing nations with dynamic economies, unlike the West.
"Economic recovery in some developed countries lacks momentum, and those countries are plagued by serious financial and debt crises. Emerging and developing countries are ascending on the world stage," he said.
The Global Times went further, warning that, "any country which chooses to be a pawn in the US chess game will lose the opportunity to benefit from China's economy".
"If an 'anti-China alliance' is really built in Asia, the US should provide more economic benefits to its followers. It should convince those countries that joining the US is more profitable."