Obama meets Indian PM Manmohan Singh at summit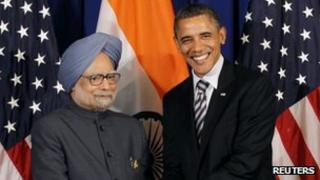 Indian PM Manmohan Singh and US President Barack Obama have met on the sidelines of the Association of Southeast Asian Nations (Asean) summit.
This is the first meeting between the two leaders since Mr Obama visited India a year ago.
Mr Singh said India had "gone some way" to respond to concerns of US companies with its nuclear liability law.
The US agreed a landmark energy deal with India in 2008, but since then US private firms have struggled.
The US sees India's new nuclear liability law as too tough on nuclear plant suppliers, which has made it hard for US firms to compete with their state-owned French and Russian competitors.
Under the law, the government-owned operator of a nuclear plant can go to court in the event of an accident and force suppliers of material, equipment or services to pay compensation, if negligence is established.
US companies fear these sums could be huge.
After his meeting with Mr Obama, Mr Singh told reporters: "We have gone some way to respond to the concerns of American companies. Within the four corners of the law, we are ready to address any specific grievances."
Mr Singh said ties between the two countries had strengthened since Mr Obama's "historic" visit to India last year, and there were "no irritants" in working together.
Mr Obama said the two countries "continue to make progress on a wide range of issues".
"The bonds between our two countries are not just at the leadership level but also at personal levels."
India is currently the US's 12th largest trading partner, with bilateral trade of almost $50bn (£31bn).
In June, the two countries agreed to improve access to each other's markets - the US wants India to become one of its top 10 trading partners.