Pakistan US ambassador offers to resign over 'memogate'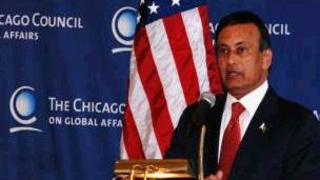 The Pakistani ambassador to the US has offered to resign after being accused of playing a role in seeking US help against his country's powerful army.
Husain Haqqani was alleged by a US-based lobbyist to have compiled a memo seeking US help to avert a military takeover in Pakistan.
Mr Haqqani has denied any role in drafting or delivering such a memo.
However former US Joint Chiefs Chairman Michael Mullen has confirmed that he received a secret memo.
But he said that did not pay any attention to it and took no follow-up action.
BBC Monitoring's Sajid Iqbal says that Adm Mullen's statement has given fresh impetus to a controversy which appears to have strained relations between Pakistan's democratic government and its powerful military leadership.
The row over the "memogate" originates from a Financial Times article by Pakistani-American businessman Mansoor Ijaz, published on 10 October.
In it, Mr Ijaz said that Pakistani President Asif Zardari had offered to replace his country's military leadership and cut all ties with militant groups following the killing of Osama Bin Laden last May.
Military coup
The article said that a new security team would be set up within Pakistani intelligence to replace the unit which was charged with maintaining relations with the Taliban and its Haqqani network affiliate.
"This will dramatically improve relations with Afghanistan," Mr Ijaz wrote in the article, quoting widely from the memo which he said was delivered to Adm Mullen on 10 May.
Our correspondent says that the machinations described by Mr Ijaz paint a picture of a Zardari government scrambling to save itself from an impending military coup following the raid on Bin Laden's compound - and asking for US support to prevent such a coup before it started.
"The embarrassment of Bin Laden being found on Pakistani soil had humiliated Mr Zardari's weak civilian government to such an extent that the president feared a military takeover was imminent", the article says.
"He needed an American fist on his army chief's desk to end any misguided notions of a coup - and fast," it said, without stipulating how the US could do this.
Mr Haqqani has been accused by the Pakistani press and some politicians of playing a role in the drafting of the memo because he has long acted as a link between the civilian government in Pakistan and the Obama administration.
But he has vigorously proclaimed his innocence, arguing in a media interview that he has been unfairly targeted by supporters of the military because of his support for stronger ties between the US and Pakistani civilian governments.
'Shadow of innuendo'
"At no point was I asked by you or anyone in the Pakistani government to draft a memo and at no point did I draft or deliver such a memo," Mr Haqqani was quoted by the US-based Foreign Policy magazine as saying in his resignation letter to President Zardari.
"I've been consistently vilified as being against the Pakistani military even though I have only opposed military intervention in political affairs," he said.
"It's not easy to operate under the shadow of innuendo and I have not been named by anyone so far, but I am offering to resign in the national interest and leave that to the will of the president."
Correspondents say that it is not clear so far if the government will accept his resignation.
But on Wednesday Pakistani PM Yousuf Raza Gilani confirmed in parliament that Mr Haqqani had been summoned to Islamabad to explain his position on the memo.