Pakistan telecoms authority to block 'obscene' texts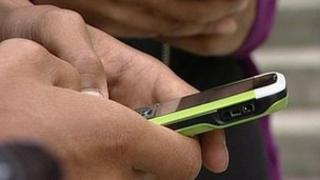 The Pakistan Telecommunications Authority (PTA) has told mobile phone companies to begin blocking text messages containing "obscene" words.
Mobile phone companies Telenor Pakistan and Ufone confirmed to the BBC that the PTA has sent them a "dictionary" of banned words and expressions.
The PTA has reportedly ordered operators to begin screening text messages by 21 November.
Ufone say they are now working on how to block the offending words.
A letter dated 14 November, apparently written by Muhammad Talib Doger, an official at the PTA, has been leaked to Pakistani media.
It states that mobile phone operators should begin screening the words, provided on a list attached to the letter, within seven days.
"We have received both the dictionary and the memo and we're discussing a way forward," said Anjum Nida Rahman, corporate communications director for Telenor Pakistan.
The ban is a reaction to consumers' complaints of receiving offensive text messages, Mohammad Younis, a spokesman for the PTA, told The Guardian newspaper.
"Nobody would like this happening to their young boy or girl," he said. He added that the list was not finished and that the authority would continue to add to it.
'What am I missing?'
An unconfirmed version of the PTA's list is being circulated online, containing hundreds of words and expressions in both English and Urdu.
According to this version, the entries range from those too obscene to repeat to the bizarre.
Some of the choices on the list have baffled Pakistani mobile phone users, many of whom have taken to Twitter to ridicule the move.
Syed Adnan Yousuf, tweeting as @AdnanWhy, asked: "Why is 'head lights' banned? What am I missing here?"
Some people have suggested bypassing the ban by replacing words with their number on the PTA's list.
Pakistan has seen a big increase in mobile phone use in recent years - more than 100m Pakistanis are now estimated to be mobile phone users.