India: Malegaon blast accused freed on bail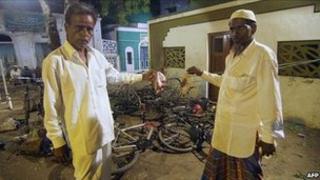 Seven men who were held in connection with a blast in the Indian state of Maharashtra have been released on bail, five years after they were arrested.
The blast in Malegaon town killed 37 people and injured 125 others.
Investigating agencies did not oppose the bail pleas of the seven Muslim men after a Hindu holy man was arrested last year in connection with the blast.
Swami Aseemanand allegedly confessed to the bombings, previously thought to be the work of Muslim militants.
He has allegedly also admitted to involvement in similar attacks on the Samjhauta Express train to Pakistan, at the famous Sufi shrine in Ajmer and the Mecca mosque in Hyderabad.
He said the explosions had been organised by Hindu radicals to avenge attacks on Hindu temples by Muslim militants.
The seven men were freed from a jail in Mumbai after a special court in Maharashtra granted them bail earlier this month. Their trial continues.
"No doubt we are happy that they will now be with us. But real happiness will come only when the court will discharge them from this matter or the prosecution will withdraw the case against them," Iqbal Ahmed Maqdumi, father of one of the released men, told the Hindu newspaper.
Earlier the families of the accused had told the BBC that they were livid that their loved ones were still in prison despite the alleged confession of Swami Aseemanand being a "clear cut proof of their innocence".
The blast happened at a Muslim cemetery in Malegaon, which has a large Muslim population.