Chinese man in Tiananmen Square self-immolation protest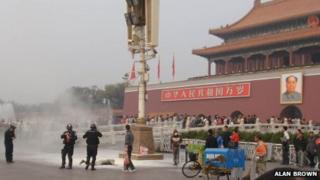 A man set himself on fire in Beijing's Tiananmen Square last month, the Chinese authorities have confirmed.
Beijing's public security bureau said that the act of self-immolation occurred close to the square's portrait of Chairman Mao.
The 42-year-old man, named only as Wang from Huanggang city in Hubei province, set himself on fire following a legal dispute, officials said.
After receiving hospital treatment he has now recovered from his injuries.
"Around 11am [on] 21st October, 2011, a man, surnamed Wang, walked up to Jinshui Bridge [Golden Water Bridge] and the marble pillars [and] suddenly set his clothes alight," a statement from China's Public Security Bureau said.
"Police on duty at the scene took only 10 seconds to put out the fire and sent him to hospital for treatment."
A British tourist who witnessed the incident, and whose husband photographed it, told the BBC she had been horrified by what happened.
"As the policeman moved forward, he started to walk fast forward with flames all over him," Pamela Brown told the World Service.
"They did the fire extinguisher, and his clothes went out quite quickly, but he himself was still alight. He then dropped face down on the floor, and the policeman was still using the fire extinguisher."
She said many of those in the busy and heavily-policed square did nothing.
The BBC's Martin Patience in Beijing says that this appears to be the first act of self-immolation in the square for several years.
As the site of pro-democracy protests in 1989, he explains, it is regarded as the most politically sensitive location in the country.
The incident, he says, has not been reported in Chinese state media or on the country's microblogs where sensitive information sometimes leaks out.