Record rhino horn and ivory seizure in Hong Kong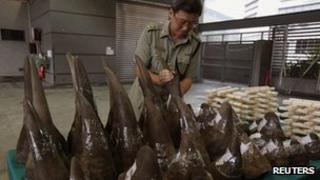 Customs officers in Hong Kong have seized 33 horns from highly endangered rhinoceroses and hundreds of ivory products worth $2m (£1.26m).
The haul weighed 86kg (190lb), making it the largest such seizure ever made in Hong Kong.
No-one has yet been arrested in connection with the find.
Rhinoceros horns are used in traditional medicine in parts of Asia and fashioned into ornaments in some Middle Eastern countries.
Along with the horns, 758 ivory chopsticks and 127 ivory bracelets were found, according to Lam Tak-fai of the Hong Kong customs and excise department.
Mr Lam told local media the horns had been hidden under layers of plastic and aluminium foil - either to avoid detection on X-ray scanners or to make it look like a shipment of recycled material.
The rhinos whose horns had been removed belonged to five species, all of which were "highly endangered", Alfred Wong, an endangered species protection official from Hong Kong's agriculture, fisheries and conservation department, told reporters.
"The total number of all of the five species of rhino in the whole world is less than 25,000," he added.
If caught and convicted under Hong Kong law, the smugglers would face a hefty fine and seven years in prison.
Mr Lam said the products had been concealed inside a 12m (40ft) container shipped to Hong Kong from Cape Town in South Africa.
Wildlife charity WWF released figures earlier this month showing that 341 rhinos have been killed in South Africa so far this year, already overtaking last year's total of 333.