Philippines: Gloria Arroyo stopped from boarding plane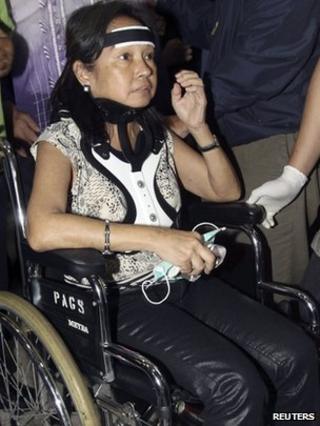 The Philippine government has defied a Supreme Court ruling that allowed former President Gloria Arroyo to travel abroad for medical treatment.
Mrs Arroyo, who says she is suffering from a bone disease, was prevented from boarding a plane at Manila airport.
Earlier in the day, the Supreme Court ruled that a travel ban imposed by the government was unconstitutional.
Mrs Arroyo faces corruption claims, and the government fears that if she leaves the country she will never return.
The 64-year-old arrived at the airport in an ambulance and - wearing a neck brace - was taken by wheelchair to the departure hall within hours of the Supreme Court ruling.
Mrs Arroyo and her husband had reportedly been due to fly out to Singapore and then on to Spain where she would receive treatment for a life-threatening bone disease, following three unsuccessful spine operations this year.
But immigration officials were ordered to prevent the couple from getting on a plane. Justice Secretary Leila de Lima said the government intended to appeal the court decision.
Presidential spokesman Edwin Lacierda said the Arroyos would be treated with dignity but "we will be firm in our decision not to allow them to leave the country".
"This is all high drama. They want the public to sympathise with them," he was quoted by the Associated Press news agency as saying.
Mrs Arroyo's lawyer Raul Lambino accused the government of inflicting "inhumane, cruel punishment" on his client.
Fugitive fears
Supreme Court spokesman Midas Marquez earlier told reporters the judges had ruled by eight votes to five that the ban was unconstitutional because Mrs Arroyo had not yet been charged with any crime.
He said the court's decision to overturn the ban was "consistent with the constitutional presumption of innocence".
But the decision was in direct contravention of the wishes of current President Benigno Aquino, says the BBC's Kate McGeown in Manila.
One of his key priorities since coming to power has been to investigate claims of corruption and electoral fraud during Mrs Arroyo's term in office.
He denied her travel request because of concerns she might never come back to face any charges that were laid against her, offering instead to provide her with the necessary care at home.
But most of the Supreme Court judges were hired during Mrs Arroyo's term, and it is not the first time the court has overruled the current president.
Last year he tried to set up a Truth Commission to investigate Mrs Arroyo's administration, but the court ruled that such a panel would be unconstitutional.